Infinity® 20 Heat Pump With Greenspeed® Intelligence
Model: 25VNA0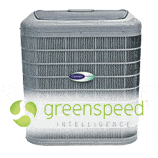 The Infinity series heat pump with Greenspeed intelligence is the first of its kind. No other ducted, air source heat pump can beat its 13 HSPF rating for heating efficiency. It's a winner too, when it comes to cooling. But perhaps the biggest story is what it can do for your home comfort.
Greenspeed intelligence is created by pairing adaptable-speed technology with our Infinity control's intelligence. The unique, variable-speed compressor of this unit, when managed by the Infinity control as part of a complete Infinity system, allows it to literally adapt its output to the needs of the home.
With infinite adjustments between 40 and 100% capacity, it gives the home only the amount of cooling or heating necessary. This allows the system to operate longer at steadier, lower capacities, which ensures incredible energy efficiency and quiet operation with tighter temperature control than standard systems.
Cooling Efficiency: Up to 20.5 SEER
Heating Efficiency: 13 HSPF
Variable Compressor
Rave Reviews
We're Dedicated to Our Customers & It Shows
We appreciated Joseph, today he cleaned our unit outside. - Sharon Sudar

This company and employees have given me a peace of mind year round knowing my system is in good hands. - Jamie H.

Excellent service with pleasant and professional staff - Mavis T.

Carson was efficient, professional and very helpful. - Jan C.

Thank you, Pace! You are the best! - Julie S.