Carrier® Wi-Fi® Thermostat
Model: TC-WHS01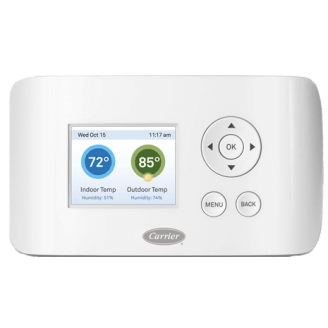 This versatile thermostat is designed to be compatible with a number of HVAC system types and brands to allow you to upgrade to the convenience of remote access control with little cost that can be quickly recouped in energy savings. You can use convenient mobile app and online control features to adjust temperatures or move your system into an energy saving "Quick Save" mode.
Online runtime tracking helps you see exactly when your energy dollars are being spent so you can modify settings to maximize savings. And, if your system includes a heat pump and a furnace, its energy smart design can orchestrate their use as a Hybrid Heat® system during transitional seasons to further stretch your energy dollars.
For the ultimate in control convenience, Wi-Fi® gives you the option of remote access so you can adjust your settings from your couch or your favorite beach get-away.
When connected to a Wi-Fi® network with an existing or optional dedicated wireless router. Wi-Fi® is a registered trademark of the WiFi Alliance Corporation.
Programmable
Humidity Control
No Zone Control
WIFI Compatible
Rave Reviews
We're Dedicated to Our Customers & It Shows
We appreciated Joseph, today he cleaned our unit outside. - Sharon Sudar

This company and employees have given me a peace of mind year round knowing my system is in good hands. - Jamie H.

Excellent service with pleasant and professional staff - Mavis T.

Carson was efficient, professional and very helpful. - Jan C.

Thank you, Pace! You are the best! - Julie S.