Comfort™ Non-Programmable Thermostat
Model: TC-NAC01-A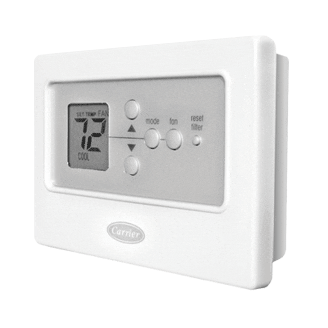 This Comfort non-programmable, large-screen thermostat keeps it simple with easy instructions printed right inside the door.
It's a breeze to maximize your comfort using this electronic thermostat configured for systems using an air conditioner for cooling.
Not Programmable
No Humidity Control
No Zone Control
No WIFI Compatibility
Model: TCSNAC01-A & TCSNHP01-A
This easy-to-use, non-programmable thermostat makes managing your home comfort a breeze.
Not Programmable
No Humidity Control
No Zone Control
No WIFI Compatibility
Rave Reviews
We're Dedicated to Our Customers & It Shows
We trust them completely with all our HVAC and ductless heat pump needs. - Mavis Tuten

The other reviews are spot on: these guys are terrific. - Mark Miller

Their maintenance program is excellent.

Their maintenance program is excellent.

" - Ken Roelofs

Pace Heating and Air is the only heat/air company I use! - Julie Warren-Sullivan

I would recommend them to anyone!

I just want to say how every person in this company have went beyond the call of duty to help us with our heating and air conditioning needs, from the office to the team that came out with a Professional attitude and Treated us with nothing but respect "

- Randy Duncan