Côr® 5C Wi-Fi® Thermostat
Model: TSTWHA01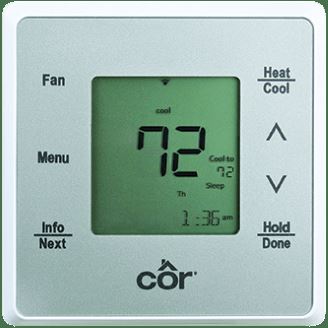 With its user-friendly, intelligent programming, the Côr® 5C Wi-Fi® Thermostat makes it easier than ever for you to keep your home comfortable. Best of all, you can operate your system even when you aren't there. That's because this Wi-Fi device can be controlled via the free mobile app.
This wall-mounted, low-voltage unit is 7-day, 5/2-day and 1-day programmable. There's no need for batteries to store settings. During power loss, its internal memory saves your preferences for an unlimited time with a clock that continues to run for at least 24 hours. Programmable scheduling allows you to easily customize settings for times when you're home, sleeping or away.
You can set your schedule for four periods per day or two periods per day. The mobile app features Touch•N•Go® for quick and easy temperature changes without changing your program. And, with the touch of a button, Scheduled Savings can show users how minor tweaks can lower their energy bills.
On an Android device, go to the Play Store. On an Apple device, go to the App Store. Search and Download the "Côr 5C/7C Thermostat" app. Thermostat must be connected to the Internet and connected to a user account.
Programmable
No Humidity Control
No Zone Control
WIFI Compatible
Rave Reviews
We're Dedicated to Our Customers & It Shows
We trust them completely with all our HVAC and ductless heat pump needs. - Mavis Tuten

The other reviews are spot on: these guys are terrific. - Mark Miller

Their maintenance program is excellent.

Their maintenance program is excellent.

" - Ken Roelofs

Pace Heating and Air is the only heat/air company I use! - Julie Warren-Sullivan

I would recommend them to anyone!

I just want to say how every person in this company have went beyond the call of duty to help us with our heating and air conditioning needs, from the office to the team that came out with a Professional attitude and Treated us with nothing but respect "

- Randy Duncan