Infinity® 21 Central Air Conditioner
Model: 24ANB1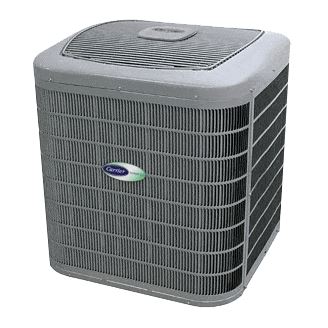 We're not the only ones that think highly of this unit. It's ENERGY STAR® qualified in all sizes and has earned applause from Consumer's Digest as a Best Buy® winner. It's easy to understand why.
This model is the most efficient air conditioner we make for starters. Add to that the fact that its two-stage compressor can make a real comfort difference when it comes to managing indoor humidity.
Two-stage compression lets the system bring the cool when it's needed but allows it to function mostly in low-stage, where you get the highest efficiency and the best dehumidification due to longer run times.
It's also quieter in low stage. And if you want to really step up in comfort, make sure you combine the 24ANB1 with an Infinity indoor unit featuring a comfort-inducing variable-speed blower motor and manage it all with an Infinity control. It's the best way to assure you get the highest level of efficiency and cool comfort.
Cooling Efficiency: Up to 21 SEER
Sound Rating: 65 dB
Two-Stage Compressor
Rave Reviews
We're Dedicated to Our Customers & It Shows
We appreciated Joseph, today he cleaned our unit outside. - Sharon Sudar

This company and employees have given me a peace of mind year round knowing my system is in good hands. - Jamie H.

Excellent service with pleasant and professional staff - Mavis T.

Carson was efficient, professional and very helpful. - Jan C.

Thank you, Pace! You are the best! - Julie S.