Infinity® 16 Heat Pump
Model: 25HNB6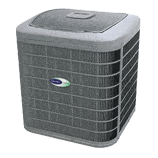 Infinity series products represent the pinnacle of our communicating technology. In a heat pump, this advanced system enables some of the best comfort features and energy saving advancements.
With the Infinity 16 heat pump you can enjoy two-stage compressor comfort, exceptional cooling and heating efficiency and, when paired appropriately with the Infinity control, greater energy savings and convenient system management features.
Should you choose to add an Infinity furnace with variable-speed blower motor you can have an energy-smart, Hybrid Heat® system with exceptional year round comfort and savings.
Cooling Efficiency: Up to 17.5 SEER
Heating Efficiency: 9.5 HSPF
Two-Stage Compressor
Rave Reviews
We're Dedicated to Our Customers & It Shows
We appreciated Joseph, today he cleaned our unit outside. - Sharon Sudar

This company and employees have given me a peace of mind year round knowing my system is in good hands. - Jamie H.

Excellent service with pleasant and professional staff - Mavis T.

Carson was efficient, professional and very helpful. - Jan C.

Thank you, Pace! You are the best! - Julie S.