Performance™ Edge® Touch-N-Go® Relative Humidity Thermostat
Model: TP-NRH01-B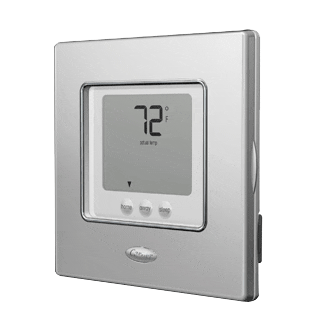 This versatile and beautiful Edge thermostat can manage any Performance™ or Comfort™ series system. Its slim, wall-hugging design gives you up to seven faceplate color options so you can customize your look.
It allows simple, Touch-N-Go programming for one-button, energy-saving, quick settings when you're on the go or ready for sleep. It's capable of managing temperatures, humidity, ventilation, airflow and indoor air quality. And, if your system includes a heat pump and a furnace, its advanced features can orchestrate Hybrid Heat® system performance too.
Display module is .8" deep and can be attached directly to the wall when its control module portion is installed on furnace or fan coil.
Programmable
Humidity Control
No Zone Control
No WIFI Compatibility
Rave Reviews
We're Dedicated to Our Customers & It Shows
We appreciated Joseph, today he cleaned our unit outside. - Sharon Sudar

This company and employees have given me a peace of mind year round knowing my system is in good hands. - Jamie H.

Excellent service with pleasant and professional staff - Mavis T.

Carson was efficient, professional and very helpful. - Jan C.

Thank you, Pace! You are the best! - Julie S.